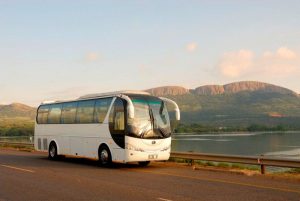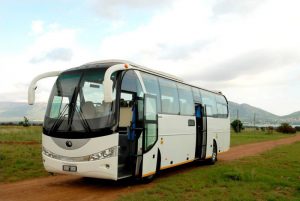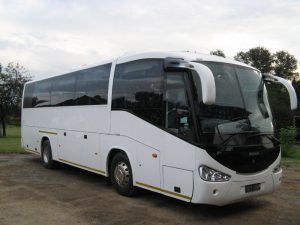 By expanding our fleet every year on new vehicles we ensure our fleet offers the latest in safety, comfort and technology. All of our vehicles are routinely inspected and maintained by a team of skilled technicians, ensuring that they are perfectly presented and in excellent working order.
Premier Coaches & Tours is the Fleet Management Company for SA Coach Charters & Bus Rentals (Pty) Ltd, a Coach & Vehicle Charter & Management Company. The latter forms part of the Travpaq Group of companies.
The founders of Premier Coaches & Tours are Sahni Singh, a veteran in the coach charter fraternity. Formerly from View Africa Tours & Transfers he has brought an enormous amount of experience and technical skills to Premier. Sahni is a top dealer maker and will definitely ensure the client is assisted even with a limited budget. He also looks after the logistical requirements.
The other founder Fanie van Zyl, is the Managing Director and has extensive experience in Business Development & Marketing. His approach is radical and innovative and can therefore really being called a Strategist.
When you board a Premier vehicle you know that you'll be travelling in style. Wherever your destination, Premier's luxury fleet will provide the very best in comfort, safety and technology along with latest up to date carbon friendly engines.
From 7-seater SUV's to full size 52 seat Ultra Luxury coaches, Premier's unmistakable fleet travel all over South Africa & neighbouring countries. Whether it's corporate travel, private hire, excursions or your daily commute, we can cater for all of your travel needs. Indeed our team's proven logistic excellence ensures that we can manage complicated events with ease, from airport shuttles to conference transport, giving you total peace of mind.
All Premier's vehicles are equipped with the latest technology including GPS tracking, CCTV. This allows Premier's operations team to pin point the exact location of the coach at any time and re-route the driver if necessary journey. Also we offer Wi-Fi & electronic charging facilities on board in certain vehicles although we contemplate installing the same in all vehicles.
To offer you the highest quality of service we have prided ourselves on the high specification of our vehicles.
Whenever we do not have available vehicles for a booking, we utilise the services of likeminded operators providing the same standards you would expect from Premier.
Premier's vehicles are only as good as the people who drive and organise them. We believe that investment in people is just as important as investment in our fleet. To reinforce this we have built a team of highly skilled individuals, dedicated to ensuring that your experience Premier exceeds your expectations.